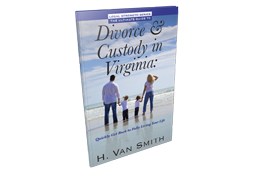 Before You Move Out or Begin Separation, Request Van's FREE Book on Divorce & Custody
Want a solid action plan, but feeling overwhelmed about separating or starting a divorce or custody action? Please request my book, for free, and when you're ready—let's get started, together.
Complete the Order Form to Claim Your FREE Copy of this E-Book. Delivered to you instantly!
This book is designed to empower you with answers, so when we meet, we can design a comprehensive plan to move you through this transition with dignity and financial security. It's so hard to trust, when those who you've given the most to and trusted the most are now against you. You turn to friends but get generally the wrong ideas and opinions on what to do next.
Our firm meets with individuals just like you each day to develop a plan of action to see them through the most difficult transition of their lives.
And that's why you need my free book The Ultimate Guide to Divorce & Custody in Virginia: Quickly Get Back to Fully Living Your Life. Once you've read my book, I believe our meeting together will be an empowering time where we craft the right plan of action to get you through the next days and weeks ahead—providing true peace of mind.