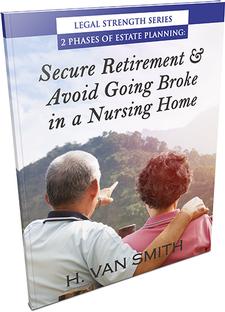 "I've been meaning to get my will done or updated for years, and never got around to it."
Are you about to sign documents with no planning?
Quickie form found online?
The well-meaning friend/advisor that gives you advice but doesn't know the consequences for your particular situation that will develop later?
Discover how you can avoid these classic estate-planning mistakes:
Nursing Home Costs: Protect your assets from $8,000 per month in nursing home bills. Learn why traditional estate plans won't help and the type of plan that will.
Divorce: How to safeguard your children's inheritance from divorce. Imagine 50% of your assets walking out the door with your ex in-law!
Remarriage: What blended families must do right away to avoid disinheriting each other and/or their separate children.
Money Worries: Learn how to preserve your IRA or 401k—keep in mind most adult children will spend your IRA within 6 months of your death (unless you plan)!
Incapacity: Avoid a publicly humiliating and expensive guardianship proceeding if you become legally incapacitated or disabled.
Family Dynamics: How to plan for special needs kids and grandkids, and how to bulletproof your children's inheritances from debts, taxes, lawsuits, medical expenses, and irresponsible lifestyles.
Probate: How to avoid potential delays of 1 year or more and how to eliminate or minimize substantial court, attorney and executor fees.
Get our free consumer guide and e-seminar that will empower you with education to make the right estate planning choices for your situation. Request our guide to learn:
How to keep from going broke in a nursing home;
How to ensure your children are provided for in a blended family estate plan;
Are you aware of how to incorporate Medicaid or Veterans Benefits into your estate plan?;
How to ensure your widow does not have to live in poverty after your long term care stay.
Don't wait. Download this free consumer guide and e-seminar today. And when you're ready for a solutions-based estate plan with real planning—not just documents—give us a call.
How to avoid having your life savings wiped out by a nursing home
How to get your ducks in a row with a powerful estate plan that protects vulnerable loved ones, including children with special needs or destructive lifestyle choices.
Veteran's benefits that most people know nothing about.
How to keep your widow from living in poverty.