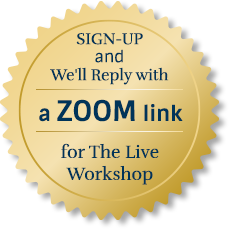 2022 FREE ESTATE PLANNING WORKSHOP:
SIGN UP TO RECEIVE A FREE LINK TO WATCH LIVE, ONLINE!
In honor of his children, Farah and George, Attorney Van Smith, joined by his colleages, continue to host Smith Strong law firm's award-winning, free estate planning workshop, now in its 8th year, as a service to the metropolitan Richmond community, and with estate planning and elder law clients across the Commonwealth of Virginia.
The workshop is entitled the "2 Phases of Estate Planning: Secure Your Retirement & Avoid Going Broke in a Nursing Home," and is offered for free twice a month. Attendees have consistently ranked it 4.9 out of 5 stars, and 96% also note they have referred others to attend. Attend for the "Farah and George" in your life.
For 2023, when you sign up, we will send you an easy link by email to view this live workshop online, from your home computer, laptop, or smartphone from the comfort of your home or office. [If internet service is an issue where you live, we'll provide a dial-in number to listen by phone!]
You will have the opportunity to ask the attorneys any question at any time during the workshop. At the conclusion of the workshop, you are able to schedule your free, private estate planning consultation meeting as a thank you for attending. We find by attending the workshop, our estate planning clients have a better experience understanding their options before the private meeting with the attorney. If you are married or have a partner, we ask that the couple attend together, so you're on the same page with this important matter.
For his efforts bringing legal education and legal solutions to thousands of clients for over 14 years, attorney Van Smith was named "Best Attorney" in Richmond, Virginia in 2021 by the Richmond Times-Dispatch's Readers "The Best" rankings service, after 280,000 votes were cast.
If you have any questions or issues after signing up below, please call 804.325.1245, M-F, 9-5 to speak with us. We're always delighted to help you! Welcome to the first step in Smith Strong law firm's award-winning estate planning system.
Free Estate Planning Workshop RSVP
We will reply with the Zoom link via email!